Klairs Rich moist soothing tencel
Klair's Rich Moist Soothing Tencel has been a cult-favorite for a while now, and honestly, we can see why. Featuring a ray of skin-loving ingredients such as Panthenol, Hyaluronic Acid, and high concentrations of moisturizing ingredients, this sheet mask is guaranteed to give you the hydration boost that your skin needs.
What makes this sheet mask special is its mix of 5 different ceramides meant to strengthen your skin's natural barrier and evenly distribute moisture. The Centella Asiatica and Aloe Vera Extracts will soothe your skin and revitalize your complexion. Beyond hydration, this mask has brightening and plumping effects, so it's one of the best sheet masks you can try after a rough skin day.
Best for: All Skin Types
How to use it: Properly cleanse, exfoliate, and tone your skin. Then, wash your hands thoroughly to avoid any contamination and apply the sheet over your face, making sure to smooth out all the air bubbles.
Wonjin Effect Medi Energy Infusion
The Wonjin Effect Medi Energy Infusion is one of the best sheet masks for revitalizing your skin after a rough week. The ingredients used in this sheet mask are the same as the Wonjin Dermatology Clinic's Chanel Injection, a famous cosmetic procedure favored by Korean celebrities for youthful skin glow and elasticity. The mask is formulated with 36 types of revitalizing ingredients, packed with peptides, amino acids, and rich minerals to relieve your skin from stressors and boost elasticity. The sheet is called MediSeal and is a sheet used on patients after having laser surgery when their skin is highly sensitive. The mask is suitable for any skin type, including the most sensitive skin, and is highly moisturizing. Trust us, you can't go wrong with this one.
Best for: All Skin Types
How to use it: Properly cleanse, exfoliate, and tone your skin. Then, wash your hands thoroughly to avoid any contamination and apply the sheet over your face, making sure to smooth out all the air bubbles.
Dr Jart+ Ceramidin Facial Mask
An essential part of your skin composition, ceramides retain moisture, fortify the skin's natural barrier, and improve firmness.
Dr. Jart+ Ceramidin Facial Mask is free of harmful ingredients and delivers hydration, and the essence in this mask is formulated to improve your skin texture. It contains a complex of 5 different ceramides meant to restore moisture, making it ideal for those with dry and dehydrated skin. The sheet is hypoallergenic and made with natural fibers to seal in moisture and deliver a dewy glow. The Panthenol and Aloe Vera Leaf Juice make your skin feel plump and hydrated while improving your skin texture. It is one of the best sheet masks for dehydrated skin, or for anyone that's having a skin SOS day. Trust us, you can't go wrong with this one.
Best for: All Skin Types
How to use it: Properly cleanse, exfoliate, and tone your skin. Then, wash your hands thoroughly to avoid any contamination and apply the sheet over your face, making sure to smooth out all the air bubbles.
Biologique Recherche Masque VIP o2
Does Biologique Recherche really needs an introduction? The brand behind the most famous exfoliating toner in the world has a long, successful history of clean beauty and delivering long-lasting results.
One of their masks, The VIP O2, is an anti-pollution, oxygenating mask created for dull, stressed skin. Formulated for those with compromised skin due to smoking, lack of sleep, and living in urban areas, the mask is doing a great job in replenishing lipids and soothing the skin. It contains white clay to purify the pores, and Biologique Recherche's patented oxygenating complex to revitalize the skin. The essential fatty acids in this mask create an optimal epidermis condition to restore moisture and enhance cell regeneration. The key ingredient, Marin Elastin, makes it great for the under-eye area to reduce dark circles, and for the lips to restore moisture. Bonus: It's a great after-sun mask. It is free of harmful ingredients, and it's safe to use even for the most sensitive skin.
ASDM Beverly Hills Calming Gel Mask
This professional face mask is a unique, deeply hydrating, gel-based treatment that helps to alleviate dry, irritated skin while reducing inflammation and redness. Formulated with potent actives, including Arnica, Hyaluronic acid, Ceramides, and Aloe, this complete formulation will help to heal skin while simultaneously plumping out fine lines and softening skin's texture. It also contains milk lipids that promote a healthy skin barrier function and prevents trans-epidermal water loss. This mask works wonders for revitalizing dry skin.
How to use it: Properly cleanse, exfoliate, and tone your skin. Apply a liberal amount onto face and neck. Leave on for 10 minutes and rinse. Repeat whenever skin feels dry. This is a moisturizing mask so you can use it everyday without any issues.
Summer Fridays Jet lag Mask
Summer Fridays! Ok, I might've gone overboard with enthusiasm, but it's justified. First off, big Marianna Hewitt fans here. She's such a sweetheart, and when we heard she's launching a new skincare line, you bet we were there for it.
The first product in her line was the Jet Lag Mask. It's supposed to be a mask that delivers rich hydration and improves your complexion. It contains skin-loving ingredients such as Arginine, Vitamin C, Niacinamide, Vitamin E, and Hyaluronic Acid. It leaves the skin feeling plump, hydrated, and glowing. The best thing about this mask is its flexible nature. Want a sleeping mask? A 10-minutes hydration boost? A primer (makeup look GREAT on top of this)? A rich moisturizer? Summer Fridays got your back.
Biologique Recherche Creme aux acides de fruits
Another winner from Biologique Recherche, the Creme Aux Acids de Fruits is a game-changer for this fall. Formulated to revitalize scar-tissue and reverse sun damage, this enzyme exfoliating cream is a potent treatment for resurfacing and brightening the skin.
With naturally-derived AHAs and NMF (Natural Moisturizing Factors), the cream is formulated as a one-month intensive treatment to resurface the skin and improve your complexion. It helps with pigmentation, scar tissue, and devitalized skin. The moisturizing and purifying agents include apple, grape, ginger, and sugar cane extracts. The renewing proprieties of cellular oligopeptides promote cell regeneration and restore the skin's natural barrier.
Although it is a cream, not a mask, we decided to include it in this mask haul for its incredible results. Use it as a sleeping mask for a month and wake up to revitalized, baby-soft skin.
Tata Harper BHA Resurfacing Mask
Tata Harper is a 100% natural skincare brand, with products manufactured at a 1,200-acre organic farm in Vermont. The brand has a cult following for its fresh, transparent, and traceable products, along with decadent packagings and organic ingredients.
One of the brand's most popular products and a Sephora Bestseller, Tata Harper's Resurfacing Mask is an all-natural BHA and fruit enzyme exfoliator. Naturally derived BHAs are very hard to find, but the ones in this mask come from willow bark and meadowsweet, two natural sources of salicylic acid.
The mask contains fruit enzymes naturally derived from pomegranate to improve skin tone and white clay to purify the pores. Fruit enzymes can accomplish exfoliation much faster. The enzymes remove dead skin cells, promote cell regeneration, diminish scars, age spots, fine lines, and discoloration. Bonus: They're great for sensitive skin too! If you are new to enzyme peeling or you just want a natural alternative to AHAs chemical exfoliation, this mask is guaranteed to offer you a luxurious, compelling experience.
Drunk Elephant T.L.C Sukari Babyfacial
"Not quite a mask, not quite a peel." Well, well, well if it isn't the most Instagrammed product of the year. So help me God, I've seen this mask everywhere. Every skincare junkie you could think of has tried the Sukari Babyfacial. Without further ado, let's see if it's worth the hype.
The T.L.C. Sukari Babyfacial is a 25% AHA and 2% BHA chemical peel, meant to resurface, tone and improve the overall condition of your skin. "T.L.C" comes from its AHAs mix of Tartaric, Lactic and Citric Acid, formulated to exfoliate dead skin cells and brighten your complexion. The BHA here is Salicylic acid, meant to cleanse and diminish the appearance of pores while combating dullness. One thing I really liked about this product is that the brand chose to use Chickpea flour over clay for brightening and balancing without over-drying. I'm not a fan of clay, especially the Kaolin (white clay), and I do find it over-drying so for those of you with dehydrated skin, this could be a great alternative. The enzymes in this include Pumpkin Ferment Extract, which is a rich source of antioxidants and exfoliates gently. Overall we found the formula in this to be stable, and it delivered baby-smooth skin, but we can see how the AHAs potency could be too strong for some people.
Best for: Normal, Combination, Oily, and Mature Skin.
Note: Those of you who experience Rosacea, Sensitivity, and have an overall reactive skin it's best to avoid this product or begin with a much milder formulation of AHAs to see how your skin reacts. The T.L.C. Sukari Babyfacial is NOT a product for acid newbies.
Olehenriksen PHAT Glow Facial™ Mask
Formulated with those with sensitive skin in mind, and featuring PHAs instead of AHAs, could the PHAT Glow Facial™ be the next big thing for sensitive skin exfoliation?
We were so excited to try PHAT Glow Facial™ due to its incredible texture. It has a thick consistency that is so fun to play with. It's a pink massage-activated cream, so you have to work it into your skin until it turns white, so you'll know it's working. The PHAs are Gluconolactone and Gluconic Acid, and the two offer all the benefits of AHAs but are very gentle, and suitable even for sensitive skin and rosacea. The mask contains Kaolin (white clay), and Bentonite clay to thoroughly cleanse pores and purify the skin. The Nordic birch sap hydrate and nourish the skin, while the lemon, chamomile, licorice root, and sandalwood extracts help condition the skin. Other notable ingredients include Sugar cane extract, Niacinamide for brightening, and chia seed oil for plumping the skin. The mask is fun to work into the skin, and that dewy finish is definitely something you need to experience for yourself.
Odacité Bioactive Rose Gommage Pineapple + Hyaluronic Acid
In need of a baby-soft peel that is more than gentle on the face? Look no further than Odacité's Bioactive Rose Gommage Pineapple + Hyaluronic Acid Peel. Almost a miracle product, Odacité claims that its Bioactive Rose Gommage delivers professional results in just 10 minutes.
This enzyme exfoliating mask is formulated with 100% of ingredients coming from natural origins. It contains pineapple and papaya enzymes, meant to refine the skin, exfoliate dead skin cells, and improve overall complexion. The plant-derived hyaluronic acid restores moisture and improves elasticity, while the konjac root clarifies the pores. The mask also contains rose water that soothes the skin and revitalizes the complexion. It is one of the most natural face masks on the market, and it is suitable for every skin type, including those experiencing Rosacea, skin reactivity, and overall sensitivity.
Peach&Lily Super reboot resurfacing mask
A sensitive skin exfoliation post wouldn't be complete without a K-beauty product, would it? Peach and Lily's Super Reboot Resurfacing Mask has been a sensitive skin favorite for some time now.
Formulated with 10% AHAs, 0.5% BHAs, and blue agave extract, this mask is set to give you smooth, hydrated skin without any irritation. The mask contains 10% Glycolic Acid to exfoliate dead skin cells and BHAs to unclog pores. The hyaluronic acid, Centella Asiatica, chamomile, and Aloe Vera extract deeply soothe and hydrate the skin. This mask's overall results have been compared to Drunk Elephant's Babyfacial, but with more hydrating proprieties for those with dry, sensitive skin. It is a tried-and-true mask that offers luminosity, helps with hyperpigmentation, and improves the texture of the skin. Overall, it's a very stable formula and a game-changer for sensitive skin.
Biologique Recherche Masque Vivant
Probably as popular as the Lotion P50 among connaisseurs, Biologique Recherche's Masque Vivant was characterized as one, if not the best mask on the market. A bold claim to make, we know, but thus far we didn't encounter a single person that has used Masque Vivant that isn't absolutely obsessed with it.
Masque Vivant is a purifying, balancing mask for all skin types. The active ingredient is yeast extract. Rich in Vitamin B, yeast has excellent anti-inflammatory, moisturizing, and clarifying proprieties. The potent blend of Vinegar, Lactic Acid, Kaolin, and Bentonite clay give this mask exceptional sebum balancing proprieties and bacteria control. The cucumber and Witch Hazel extracts will soothe and hydrate the skin. We suspect it's the yeast extract and vinegar that give this mask its world-famous scent. It's not exactly horrible, but it requires some time getting used to, especially if you're used to artificial fragrance products.
Tips
If you have Oily/Acne-Prone skin, clogged pores, or you just need a deep cleanse, mix the mask with a pinch of baking soda to lift any impurities.
For dry/sensitive skin, mix the Masque Vivant with Masque VIP O2 for an extra boost of hydration.
This mask works perfectly with any skin type/condition and leaves your skin with a matte, hydrated finish without stripping your skin. Could this be the best mask in the world? If not, it's certainly one of the strongest contenders we found.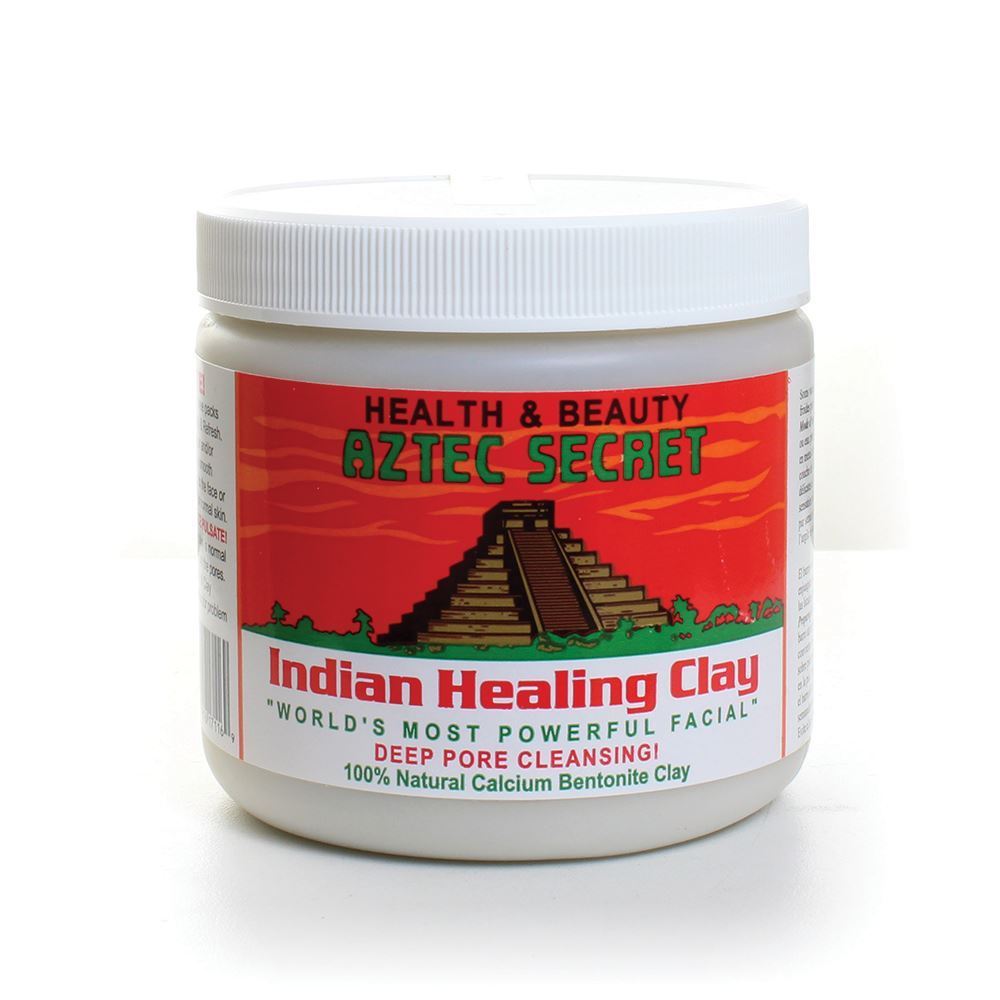 Aztec Secret Indian Healing Clay
The Aztec Secret Indian Healing Clay has nearly 18,000 reviews on Amazon, with 71% of reviewers giving this a five-star rating. That's like… really awesome. And crazy. What's in this SUPER hyped up mask anyway?? The mask's secret appears to be its simplicity.
It comes in powder form and contains 100% pure Calcium Bentonite clay. Bentonite clay is formed over thousands of years from volcanic ash, and it's one of the most healing clays you could get your hands on. Known for its detoxifying proprieties, after you add water or apple cider vinegar, the clay will be able to bind any toxins that come in contact with it. How? The thing that made this clay so famous is that when the clay molecules become hydrated, the molecular and electrical components of the clay change quickly and produce a sort of electrical charge. This basically means that when you add water to bentonite clay, it starts frothing, like those science experients with volcanos and baking soda.
Tips: Use a 1-to-1 ratio of clay and liquid. You can choose from raw apple cider vinegar and water, or both if you have sensitive skin. Do not use any metal utensils when mixing; the metal will cancel the clay's properties.
It is a very effective "pulsating" mask and if you have sensitive or dry skin, patch test it first. For those with reactive skin, you shouldn't have any bad reactions to it, as is 100% natural.